Eleven billion dollars...
That's how much money two major funds lost in combined market value over the last few weeks.
You might expect this, since the stock market just suffered a correction. But interestingly, these aren't stock funds...
Sure, stock funds lost money as prices fell. And folks are certainly worried about the market after the recent decline.
But this mass exodus happened in another asset. And you should consider this as a massively contrarian opportunity right now.
Let me explain...
An $11 billion loss means these two funds saw 19% of their combined assets disappear... in less than three months.
The crazy part is that both funds fell less than 3% over that time. So they haven't lost assets because share prices are down, but because investors have pulled their money OUT of these funds.
Again, these aren't stock funds. They're two of the largest bond exchange-traded funds (ETFs) – the iShares iBoxx Investment Grade Corporate Bond Fund (LQD) and the iShares iBoxx High Yield Corporate Bond Fund (HYG).
LQD is the largest investment-grade bond ETF, while HYG is the largest "junk" bond ETF.
At the end of November, these two funds held nearly $60 billion in total assets put together. Both have lost more than $5 billion since. Take a look...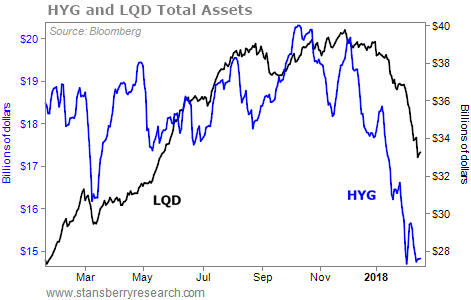 The mass exodus from these two funds has a single culprit: rising interest rates.
Yields have been moving higher since September. And fears of higher interest rates are hitting an extreme right now. You see it everywhere...
Inflation and a resulting bond crash are fund managers' biggest fears right now, according to the latest Fund Manager Survey from Bank of America.
Real-money traders are making the same crowded bet...
The Commitment of Traders (COT) report tells us what futures traders are doing with their money. And right now, futures traders are betting on higher interest rates at near-all-time extremes.
It's across the board. Futures traders are unanimously betting on higher two-, five-, and 10-year Treasury yields.
The thing is, we know that when EVERYONE believes in one trade, the trade is usually over... It means there's nobody left to buy. That's where it looks like we are now with this interest-rate trade.
Investors expect higher rates. They're selling bond funds to avoid losses if rates rise. And futures traders are actively betting on higher rates.
This all means betting on higher interest rates is a crowded trade right now.
And as a contrarian investor, that gets me interested.
LQD and HYG saw $11 billion disappear in just a few weeks. If you're bold, now is a moment to consider going against the crowd and betting on bonds... betting on lower rates.
Do it as a three-month sentiment trade. And set a tight stop loss to limit your downside.
Trades don't get more contrarian than this. But the time is right... Are you contrarian enough for this trade?
Good investing,
Steve
P.S. Last week, I found a unique way for my
True Wealth
readers to make this contrarian bet. The recommendation is brand-new, so I can't share the exact details with you. But it's a smart way to earn big yields – and potentially double-digit capital gains – as this extreme moment goes away. If you're interested in signing up for
True Wealth
,
click here for more details
.
Further Reading:
"The stock market hates rising inflation," Steve writes. Learn where we stand today – and when investors should start worrying about inflation – right here.
"The crypto market has shed more than $400 billion of market value since last month," Tama Churchouse says. But he believes this could be another contrarian opportunity for investors who make the right moves today... Read more here.
Betting on bonds is a good idea today. But over the long term, inflation can hurt bond returns. Fortunately, Dave Eifrig has found a way around the problem. He explains...
Market Notes
HIGHS AND LOWS
NEW HIGHS OF NOTE LAST WEEK
Rayonier (RYN)... timberland
Southern Copper (SCCO)... copper
Vale (VALE)... iron ore
Rio Tinto (RIO)... diversified mining
Raytheon (RTN)... "offense" contractor
Northrop Grumman (NOC)... "offense" contractor
PNC Financial Services (PNC)... regional bank
Comerica (CMA)... regional bank
CME Group (CME)... derivatives
Interactive Brokers (IBKR)... online brokerage
Cisco (CSCO)... Internet "plumbing"
Arista Networks (ANET)... Big Data "picks and shovels"
Zendesk (ZEN)... customer-service software
Match (MTCH)... online dating
Shopify (SHOP)... e-commerce powerhouse
Wayfair (W)... home-goods website
Estée Lauder (EL)... cosmetics
Coty (COTY)... cosmetics
Tapestry (TPR)... luxury purses
Pool Corp (POOL)... swimming pools
Callaway Golf (ELY)... golf equipment
SodaStream (SODA)... do-it-yourself soda
Denny's (DENN)... chain restaurants
Blue Buffalo Pet Products (BUFF)... pet food
Bristol-Myers Squibb (BMY)... Big Pharma
NEW LOWS OF NOTE LAST WEEK
Tanger Factory Outlet Centers (SKT)... outlet malls
Prestige Brands (PBH)... health and cleaning products
Nielsen (NLSN)... data and analytics