The Weekend Edition is pulled from the daily Stansberry Digest.
---

Is it time to start worrying about the housing market again?
According to one notable market strategist, the answer is a resounding "yes."
Back in 2005, James Stack – president of market-research firm InvesTech Research – was one of the few money managers to publicly warn of a crash in home prices, shortly before the peak.
Today, Stack believes the housing market is getting overheated once again. As he warned in a recent interview with Bloomberg...
It is 2005 all over again in terms of the valuation extreme, the psychological excess and the denial. People don't believe housing is in a bubble and don't want to hear talk about prices being a little bit bubblish.

Longtime DailyWealth readers know Steve disagrees...
Yes, it's true that home prices in the U.S. have rebounded since the financial crisis. According to the Federal Reserve Bank of St. Louis, median sales prices are up more than 50% over the last nine years – from $208,400 in early 2009 to $315,200 late last year.
But Steve believes we're still in the "middle innings" of the bull market in real estate... And he says home prices could rally much higher from here.
So why the difference of opinion? In short, Steve says it's a simple story of supply and demand.
After the housing bubble burst a decade ago, investors wanted nothing to do with real estate. Prices collapsed. And homebuilders stopped building homes.
Eventually, the supply dwindled to the point where demand began to exceed it. Investors started to buy homes again, and prices have taken off since.

But Steve says the market is not back to "normal" yet...
Despite the rebound in prices, Steve notes the supply/demand imbalance has not improved. Instead, it's actually getting worse...
According to the latest data, inventories of existing homes for sale fell to just 3.2 months of supply in December – the lowest level of housing supply in decades.
And while "housing starts" – the number of new single-family homes being built – have been rising steadily, they're still below "normal." As Steve's research team noted in a private e-mail recently...
Even after hitting new 52-week highs, housing starts are far from an all-time high. Take a look...

Housing starts have soared since the bottom in 2009... But they are still historically low. In fact, housing starts would have to nearly double to get back to 2005 levels.

Today's housing starts are slightly below their long-term average. And that's a good sign for higher prices.

Of course, that's only one side of the argument...
Another factor to consider is housing demand. As you can see in the following chart, demand has steadily increased over the past several years...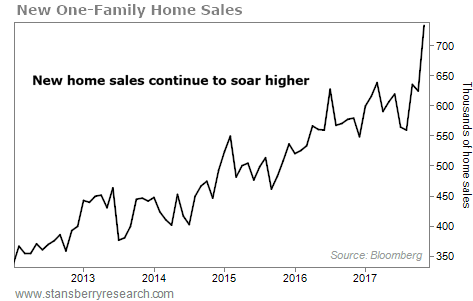 Together, supply and demand suggest significantly higher prices are likely...
But that's not all. In spite of the bullish fundamentals, Steve and his team also note that investor sentiment is on their side.
Last May, they recommended the iShares U.S. Home Construction Fund (ITB) to their True Wealth Systems subscribers. This fund holds a basket of nearly 50 housing-related stocks – like homebuilders D.R. Horton (DHI), Lennar (LEN), NVR (NVR), and Toll Brothers (TOL), as well as home-improvement companies like Home Depot (HD), Lowe's (LOW), and Sherwin-Williams (SHW) – so it's a great way to profit from a continued bull market.
But because ITB is a "open end" fund – meaning it can create or liquidate shares based on demand – it can also serve as a useful real-time indicator of investor interest. And it shows investors are still not excited about housing today. As they explained...
Since 2013, ITB's shares outstanding are down more than 40%. That tells us investors aren't interested in homebuilders, let alone euphoric.

Only when that narrative changes – when investors fall in love with homebuilders – could we getting close to a "bubble" in housing.

Until then, demand far exceeds supply... Investors continue to ignore the sector... And ITB shares are in a solid uptrend that shows no signs of slowing down.
True Wealth Systems subscribers are up almost 35% since Steve's recommendation last May. But he and his team remain bullish. In fact, with supply and demand relationship still "out of whack"... and with investors still not interested in the sector... Steve says the biggest gains are likely still ahead.
If you don't already own shares of ITB, Steve still rates them a "buy" today.

Speaking of Steve's bullish calls... Regular DailyWealth readers know he has been practically begging folks to buy Chinese stocks since 2016.
Those who took his advice have done incredibly well... And you won't find a better example of that than the returns in shares of Chinese tech giant Tencent (TCEHY).
Subscribers are up more than 120% since Steve first recommended the stock in September 2016. And what was once an unknown Chinese firm is suddenly making front-page news...
On September 9, we noted that the company's WeChat Pay mobile-payment system had become a form of payment in Apple's (AAPL) App Store.
Days before, Tencent also announced that it had landed exclusive rights to stream 100 National Football League games. In mid-September, it became China's primary distributor and licensor of some of the world's largest music catalogs.
By November, Tencent's market cap surpassed that of social-media behemoth Facebook (FB), making it the fifth-largest publicly traded company in the world.

Steve remains bullish on Tencent – and Chinese stocks, in general...
But he recently recommended a company he believes could become the "next Tencent." Only it's likely not for the reason you suspect...
You see this company is not a Chinese technology firm... In fact, it's not even a Chinese company at all. Instead, this firm shares what Steve believes is Tencent's biggest strength: a digital "ecosystem," which touches virtually every part of its users' lives. As Steve pointed out in the most recent issue of True Wealth...
It took traveling to Beijing two summers ago for the light bulb to go on for me – I realized just how powerful and entrenched these ecosystems can be.

For example, if you want to call someone in Beijing, you don't dial their phone number anymore. You call them on Tencent's WeChat app. You don't use any other service.

Don't bother sending someone an e-mail in Beijing. It takes too long to hear back. Instead, message them on WeChat. You don't use any other service.

Want to pay for something in Beijing? You might not be able to use cash... You can simply pay on your phone – with either Tencent's or Alibaba's mobile-payment system. You don't use any other services.
And as Steve explained, these ecosystems can provide a powerful competitive advantage to the businesses that create them...
The crazy thing about these ecosystem-based businesses is that the customer doesn't want to leave them. Everyone else is using them, too. You don't want to force your friends to call you or message you on another app.

With these ecosystems, it's a winner-take-all type of thing... It doesn't matter who the No. 2 to Facebook is. The market leader is the only one that matters.

These ecosystem-style businesses could be the biggest stock market winners during the Melt Up. Apple does a great job keeping you in its ecosystem. So does Amazon. Facebook and Tencent are fantastic at it.

Steve says the "next Tencent" has created a similar digital ecosystem...
Again, this company isn't based in China. And it's certainly not a U.S. firm. Instead, it is the largest and most dominant e-commerce company in more than a dozen different developing countries. As Steve explained...
is already the market leader . It is already the dominant ecosystem player. And this leader is doing the right things.

And what really gets me excited here is that the company's business model has shifted lately... adding additional "ecosystems."
Better yet, despite its dominant position already, the company is growing rapidly. And Steve says it still has plenty of growth ahead of it...
Revenues grew more than 60% in the most recent quarter, meaning that it's growing even faster than Tencent and Alibaba...

But this snowball is just starting to roll down the hill. Keep in mind, e-commerce only makes up 3% of retail sales in . [This company] will likely maintain its dominant position as that 3% increases exponentially in the coming years – as it has all over the globe.

Tencent's stock market value is more than $500 billion. Meanwhile, market value is just $15 billion. It could double today and still be the equivalent of a rounding error in Tencent's market value. There's plenty of upside from here.
Of course, it wouldn't be fair to Steve's subscribers to reveal this company today. But you can get instant access to all the details on the "next Tencent" in the January issue of True Wealth. Gain access to this recommendation with a 100% risk-free trial right here.
Regards,
Justin Brill
Editor's note: Steve's "Melt Up" thesis is going global... And he believes the "next Tencent" is certain to get swept up in it. In the latest issue of True Wealth, Steve explained why he believes this stock could easily double from here. You can read Steve's in-depth analysis – and all of his research – with a risk-free subscription to True Wealth. Learn more here.