When times get tough, turn to a professional.
You go see the doctor when you're sick. You talk to an attorney if you've got a legal problem. And you set an appointment with your accountant when tax season rolls around.
Professionals have the answers... most of the time. You can't always count on them when it comes to the markets, though.
This year, wild markets have spooked the investment pros. Based on one measure, they recently hit their most bearish level for stocks since early 2016.
The pros are worried. But that's a good thing. It tells me that stocks haven't hit their ultimate peak just yet.
Let me explain...
We can't blame the pros. It's not their fault.
Investment managers tend to run in the same circles. They bounce ideas off similar minds and arrive at similar conclusions. It's called "groupthink," and it's hard to avoid.
Self-preservation can also cloud even the best investment minds. When markets get scary, it's easier to pull out of stocks than to explain why you're the only guy still buying.
So when investment managers get bearish together, it's usually a good sign for stocks. And last month, one measure showed that investment managers are at their most bearish since 2016.
We can see it thanks to the National Association of Active Investment Managers (NAAIM). Specifically, the NAAIM Exposure Index...
This is a weekly survey of hedge-fund and mutual-fund managers. The survey asks what percentage of managers' portfolios are in stocks. A zero means they don't own stocks at all. A 100 means they're fully invested. A score higher than 100 means they're fully invested and then some – they're buying with leverage.
This survey showed that investment managers were record bullish in December. But things have changed. The NAAIM Exposure Index fell to less than 50 last month... the lowest level we've seen since early 2016. Take a look...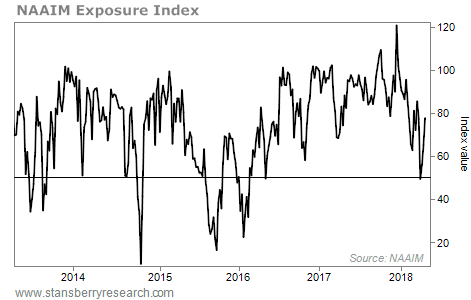 We've seen a major decline in sentiment from investment managers in recent months... They moved from fully invested to just 50% in stocks in March.
The Exposure Index is up to nearly 80 since that low. But March's low reading showed investment pros were the most pessimistic we've seen since February 2016.
It's no surprise that markets have spooked the investment pros. Volatility is back. And we saw our first correction in years in February. Stocks have been bouncing around since then.
It's tough out there. But March's fall in optimism makes me excited. It tells me we haven't seen the top in stocks yet.
We'll know it's a top when the investment pros are excited to see the market fall. You should be scared when they unanimously view a decline as a good thing... as a buying opportunity.
That hasn't been the case this year. Stocks fell, and volatility rose... and the investment pros pulled out of the market. That's a clear sign that stocks haven't topped yet.
Importantly, the long-term trend is still up. Until that changes, the smart bet is to take the recent fall – and the fear from investment pros – as a buying opportunity. Stay long.
Good investing,
Brett Eversole
Further Reading:
"We have a simple way to know when this boom will end," Steve writes. This indicator has predicted every market peak over the past 30 years. Read more here: This Will Cause the Next Stock Market Peak.
"Corrections are normal – even in the Melt Up phase of a stock market boom," Steve explains. The February pullback spooked investors. But we've seen this before... And we could see it again before this bull market ends. Learn more here.
Investors didn't just flee U.S. stocks. Real estate investors also headed for the exits. And Dave has found a way to earn a 3.5% dividend yield while taking advantage of the overreaction...
Market Notes
THIS COMPANY IS KEEPING UP WITH THE TIMES
Today, we're taking a look at one of the fastest-growing restaurant chains in the U.S...
Recently, we discussed how classic restaurants like Denny's (DENN) are "going digital" to reach modern customers. Another example is pizza maker Domino's Pizza (DPZ). While you may associate Domino's with traditional ordering over the phone, this company has made it a point to adapt to shifting technological trends...
Domino's is the largest pizza company in the world, with roughly 15,000 stores. Last year, more than 60% of its orders came through digital platforms. That includes smart-home devices Google Home and Amazon Echo, as well as Facebook, Twitter, and even text messages. The company is even working with Ford Motor (F) to test self-driving pizza delivery.
Adapting to technology has led to big profits for Domino's over the last several years... which has meant big returns for shareholders. As you can see, the stock is up around 375% over the past five years. As long as management is determined to stay ahead of the curve, this uptrend should continue...