"I was at this bar," my roommate Jeff told me back in college. "Next thing you know, the most beautiful girl in the place agreed to go out with me."
The next-thing-you-know phrase appeared again after college, when Jeff and I were stockbrokers together in the mid-1990s. "I talked to this potential client today," he said. "Next thing you know, he's sending in a million dollars."
I love – and hate – Jeff's "next thing you know" stories...
It's not Jeff's success that bothers me – you can't not love the guy. Instead, it's the "next thing you know" part...
Whenever Jeff used "next thing you know" (and he did, often – that rascal), I got frustrated... He was leaving out a key step – a secret to success. And I needed to know what that secret was.
If I didn't get to the bottom of "next thing you know," then I couldn't follow in his footsteps to succeed.
I tell you this because most of us are missing a serious missing piece of the financial puzzle... a secret... a "next thing you know" that we need to get to the bottom of.
Today, I will share a solution to finding that crucial secret. Let me explain...
Here's what most ordinary folks think about investing: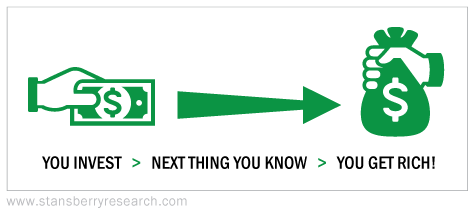 If you're reading DailyWealth, you're more sophisticated than most people...
You know that proper investing takes time – and that the "next thing you know" doesn't happen overnight.
You know that you need to diversify... to put some money into stocks, and some into other investments. That's part of the path to investment success.
But this still isn't enough information. These are just guidelines. The "next thing you know" is still missing.
So what is this missing piece?
It is knowing EXACTLY what to do with your money. It is knowing EXACTLY how to allocate it safely, down to the penny.
If you've followed our writing, you should be doing pretty well.
But... if you haven't taken the time to get organized... if you don't take a whole-portfolio approach... if you inevitably put too much capital in the wrong stocks, and not enough in the right ones... then you are still just guessing.
To get past the "next thing you know," we have an answer for you...
It's a way for you to start investing like a pro. By doing this, you'll maximize your opportunity. You'll allocate appropriately. You can follow your stop-loss discipline. You can finally "get there." And you can do it all in about an hour a month.
I can't share all the details with you here... The best thing for you to do is to listen in on our recent webinar, where we discussed our most unique service yet, Stansberry Portfolio Solutions.
It broadcast on Wednesday night... But if you missed it, you can watch it now by clicking below.
If you do, you'll learn the secret behind the "next thing you know." And as my friend and colleague Porter Stansberry says, it's "so easy that the average sixth-grader could do it."
Good investing,
Steve
Editor's note
: If you've ever wished you knew EXACTLY what to do in the markets, right down to how many shares you should buy... Stansberry Portfolio Solutions is the answer. Steve, Porter, and Dave Eifrig designed this service to do the hard work for you – and give you the best opportunities to profit safely in 2018. Our recent webinar recording covers all the details...
Click here to see it now
.
Further Reading:
"Nothing else you can do this year is more likely to increase your portfolio's return," Porter says. This investing tool is one of three key ways to boost your results, no matter what the market does next...
Read more here
.
"Asset allocation can seem boring and complex," Dave writes. "But it's the most important factor in your retirement-investing success." Learn more about how to think about this crucial step,
right here
.
Our goal is to bring the best product possible to you – one that is simple and easy to act on. That's why we've created Stansberry Portfolio Solutions to do the heavy lifting for you...
Market Notes
BET ON ELITE COMPANIES FOR LONG-TERM GAINS
Today, we highlight yet another company at the top of its industry...
We're talking about "
World Dominators
" – a phrase our colleague Dan Ferris uses to describe the world's safest, strongest companies. Sporting huge, global brands and steady, long-term growth, they're clear leaders in their niches. Today, we'll look at one cash-gushing business he recommended to his
Extreme Value
readers in 2008...
Automatic Data Processing (ADP) is one of the world's largest human-resources companies. In particular, it's a major payroll and tax-filing processor – chances are, ADP processes your own paycheck. The company has a lot to offer its shareholders... After 43 straight years of dividend growth, it now pays a quarterly dividend of $0.63 per share – a yield of about 2%. Plus, it expects revenue growth of 6%-8% for fiscal 2018.
As you can see in the chart below, ADP shares are on a tear... They're up more than 18% in the past year, and they recently hit all-time highs. Readers who followed Dan's advice are sitting on huge 341% gains so far. Congratulations to Dan on another great call...