Stocks have spent nearly a decade climbing the "Wall of Worry."
Fear has kept folks out of stocks. Despite solid returns, they kept expecting prices to fall. That's changing now, for the first time in this bull market.
Investors are getting bullish on stocks for the first time in years. They're getting on board the "Melt Up." In fact, one measure says more folks than ever are expecting stocks to go higher.
That could mean a slowdown in the Melt Up – but it won't kill this bull market.
Let me explain...
Do you expect stock prices to increase?
It's a simple question. And recently, more folks than ever are answering "yes."
The Conference Board is an independent research company that gathers business and economic data. It's famous for its Consumer Confidence Index, which tracks how folks feel about the economy.
But that's not the only thing The Conference Board does...
It also runs a monthly poll asking folks the simple question above. More specifically, it asks if folks expect stocks to rise, fall, or stay the same.
The answer to that question tells us a lot about market sentiment. And as of the latest survey in January, more than half of the responders expect higher stock prices.
That's the highest reading ever. And it's the first time that more than half of folks polled said they expect higher prices. Take a look...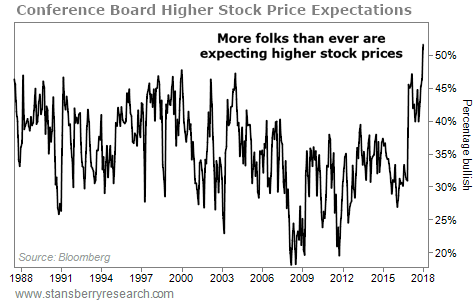 For most of this bull market, fewer than 40% of responders expected higher stock prices. That's changed in the last year. Now, more folks than ever expect stock prices to rise.
That much positive sentiment is not a good thing. But it's not the end of the world, either.
History shows that while it won't kill this bull market, it will likely mean a slowdown for stocks.
Specifically, after readings of more than 45%, stocks have a history of falling slightly over the next few months. Take a look...
| | | | |
| --- | --- | --- | --- |
|   | 1-Month | 3-Month | 6-Month |
| After extreme | 0.5% | -3.7% | 1.0% |
| All periods | 0.6% | 1.8% | 3.7% |
We've seen these kinds of readings only 5% of the time since 1987. Those have led to minimal gains a month later and 3.7% losses over three months.
Six months later, stocks were up 1%.
But if we look further out, stocks were typically up 10% two years after these extreme readings. And we saw positive returns 69% of the time two years later.
That tells me that this positive sentiment will slow down the market's climb... But it likely won't cause the next bear market.
Stocks have been falling for the past few weeks. And that'll likely shake the confidence of most folks. Don't let it affect you, though.
Folks finally expect higher stock prices. That could be part of the cause for the recent decline. But it won't end this bull market.
Watch your stops and stay long.
Good investing,
Brett Eversole
Further Reading:
"Investors are getting more bullish... And investment managers specifically are putting money to work in a big way right now," Steve says. After these extremes, the recent pullback is no surprise. But we could still see a real "blast off" ahead in stocks... Learn more here.
"If you are willing to buy any asset class, in any country – like I am – then you will see the pattern repeat itself," Steve writes. This pattern is what a Melt Up looks like... Find out what he learned from his first one – and how to apply these lessons in today's market – right here.
Something interesting happened last year. Few noticed it... But it's a big deal.
Market Notes
HIGHS AND LOWS
NEW HIGHS OF NOTE LAST WEEK
Twitter (TWTR)... social media
Match (MTCH)... online dating
Grubhub (GRUB)... on-demand food delivery
TD Ameritrade (AMTD)... online brokerage
New York Times (NYT)... global news coverage
World Wrestling Entertainment (WWE)... pro wrestling
Churchill Downs (CHDN)... horse racing and gambling
Lululemon Athletica (LULU)... athletic apparel
Tapestry (TPR)... luxury purses
Weight Watchers (WTW)... weight-loss help
NEW LOWS OF NOTE LAST WEEK
General Electric (GE)... debt-ridden industrial giant
Ford Motor (F)... "Big Three" U.S. automaker
Eli Lilly (LLY)... Big Pharma
Kraft Heinz (KHC)... Big Food
Anheuser-Busch InBev (BUD)... beer
Molson Coors Brewing (TAP)... beer
Dish Network (DISH)... satellite TV
Sears Holdings (SHLD)... retail "old guard"