Booms and busts...
Investors tend to see them as black swans... or once-in-a-generation events.
But they happen in the stock market more often than most people realize. And they're downright commonplace in the commodities markets.
Today, we've found one commodity that could be at the bottom of a bust cycle... and on the verge of its next boom.
This commodity is more hated than at any point in history. Everyone expects it to continue lower. And that's setting up a contrarian opportunity.
Last time around, it soared 92%. And we could be on the verge of similar upside right now.
So which commodity do investors hate? Which one have they completely given up on?
It's not oil or gold, or any other commodity that might come to mind right away. This opportunity is in coffee...
Coffee is dead to investors. It's more hated than ever before, based on one of our favorite measures – the Commitment of Traders (COT) report.
The COT report gives weekly insights into what futures traders are doing with their money. And based on history, when futures traders are all making the same bet, it's smart to take the opposite side of that bet.
Today, futures traders are betting on lower coffee prices. They haven't been this bearish at any previous point in history. Take a look...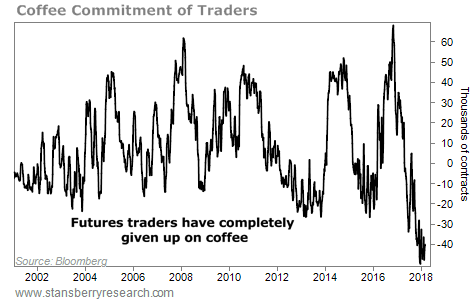 Coffee has never been this hated before... But it has gotten close two other times in recent history. And both led to huge returns...
In 2015, coffee hit a similar extreme. Investors were sure the price could only head one direction... down. Instead, coffee soared 45% in just 10 months.
Amazingly, just a year before, there was a similar setup. In 2014, investors were once again betting on the demise of coffee. It didn't work out... Coffee prices soared 92% in just 11 months.
Now, it makes sense that coffee isn't popular among investors. Since its peak in late 2014, the iPath Bloomberg Coffee Subindex Total Return ETN (JO) – the simplest way to bet on coffee – is down more than 60%.
That has created extreme negativity... and it means prices could soar once the trend reverses.
As contrarian investors, this is exactly what we want to see.
Unfortunately, coffee is still in a downtrend today. When that changes, the upside potential is massive... And shares of JO will be the best way to make the trade.
Good investing,
Brett Eversole
Further Reading:
Brett says last month's market correction is actually a
good thing
for stocks, based on history. In fact, he says stocks could rise as much as 16% over the next year. Read more here:
Double-Digit Upside Ahead for U.S. Stocks
.
No major market escaped declines in the recent correction. But history says investors overreacted. And this market could rally as a result...
Market Notes
THE GROWING TREND IN MOBILE PAYMENTS
Across the globe, consumers are abandoning cash and turning to mobile payments. From street performances to church donations, more people are buying and selling goods and services with their smartphones. That's where Square (SQ) comes in...
The $21 billion financial-services company offers businesses the point-of-sale technology needed to make these transactions. Vendors of all sizes use Square's software to process mobile payments, read chip cards, send invoices, and even track their inventories. And the cost of convenience is paying off... According to Square's fourth-quarter earnings report, net revenues were up 36% over the same period a year ago.
As you can see from the following chart, this has been a tailwind for Square shares. The stock is up more than 200% over the past year, and recently hit a new all-time high. As long as people continue to pay with their smartphones, this trend shows no signs of slowing down...