Steve's note: Is the first correction of the "Melt Up" here? After yesterday's big drop in the markets, you might think it is. But I'd like to urge you not to panic. As I explained yesterday morning, this is normal.
Corrections happen, even in the Melt Up. The Nasdaq Composite Index fell by roughly 10% five times during the last Melt Up. And corrections are likely this time around as well.
Stocks are down about 8% since peaking on January 26. So the first correction of this Melt Up is happening right now. Don't panic. Sit tight. Nothing that's happening makes me believe this is the "Melt Down."
---
We're smack in the middle of the stock market "Melt Up" – and years into a global bull market.
That makes it darn difficult to find cheap investments.
The U.S. market hasn't been cheap in years. Valuations have roughly doubled since 2011. But that's not true everywhere in the world.
In fact, a certain part of the world hasn't offered today's value in more than 15 years. And it's in a strong uptrend as well...
Cheap and in an uptrend? That's the kind of investment I love to see. And it's available right now.
Let me explain...
Asia-Pacific stocks are offering incredible value today.
Simply put, they're one of the few cheap investments in the world right now...
This group – which includes Asian markets as well as Australia and New Zealand – is roughly half as expensive as U.S. stocks, based on one measure. That's one of the largest discounts in history for Asia-Pacific stocks.
To see this, we only have to compare the book value of this group of stocks versus the U.S.
Based on book value, Asia-Pacific stocks are actually the cheapest they've been since 2002, relative to U.S. stocks.
The chart below shows the price-to-book value (P/BV) ratio of the benchmark S&P 500 Index minus the MSCI AC Asia Pacific Index's P/BV ratio. A high reading on the chart means Asia-Pacific stocks are cheap compared with U.S. stocks. Take a look...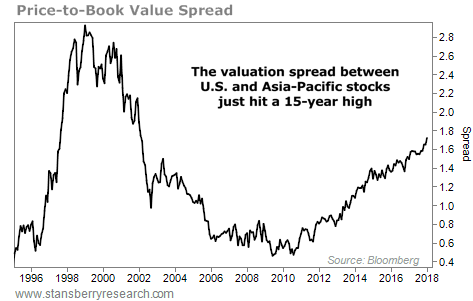 The chart shows that this valuation gap has been increasing... And even better, it has just hit a new multiyear high.
What does this mean for investors?
It means that Asia-Pacific stocks are dirt-cheap. Again, they trade at a 50% discount to U.S. stocks based on book value. These markets haven't been this cheap, relative to the U.S., in more than 15 years.
That's a good thing. I love buying cheap stocks. And after a nine-year bull market in the U.S., value opportunities in this country are scarce.
But that's not true in this corner of the globe... These markets are still cheap.
And the trend is strong, as well...
Asia-Pacific stocks rallied 32% in 2017. That's a stellar return... a full 10 percentage points higher than the S&P 500 last year.
It makes sense, though. Asia-Pacific stocks include Japan and China – two markets that boomed last year.
As longtime readers know, we love to buy these kinds of uptrends. When prices move higher, it usually leads to more gains. And because these markets are so cheap, they have more room to run – which makes this opportunity even better.
The uptrend is in place... And today's huge discount could be a tailwind to push these markets higher.
So if you're looking to invest in cheap markets that are in an uptrend, Asia-Pacific stocks – places like China, Japan, Korea, and Australia – fit the bill.
Good investing,
Brett Eversole
Further Reading:
Good values have been scarce in recent years. But one beaten-down asset class could be setting up for a rally... "While stocks have absolutely soared, this investment has lost nearly half its value," Steve writes. Read more here: The Most Hated Asset Right Now.
Most Americans invest the bulk of their money in the U.S... and much less of it abroad. If your portfolio suffers from "home-country bias," check out Kim Iskyan's classic essay: Make Sure Your Portfolio Isn't Guilty of This Common Problem.
The value in Asia-Pacific stocks is undeniable...
Market Notes
THE LONG BULL MARKET IN 'OFFENSE' STOCKS
Today, we take another look at one of the market's most reliable trends...
Longtime readers know we've noted that the U.S. is constantly involved in foreign conflicts. The government spends an extraordinary amount to fund its military goals... so much so, we've said defense contractors could just as easily be called "offense" contractors. Today, we highlight another company supplying the government with wartime technology...
Rockwell Collins (COL) designs and makes aviation systems for both commercial and military customers. It provides a range of electronic solutions to the U.S. Department of Defense, which it uses for navigation, surveillance, guided missiles, secure data links, training operations, and more. The company reported $6.8 billion in sales last year, up from less than $5.3 billion in 2016. About 25% of those sales came from U.S. government contracts...
As you can see in the chart below, shares of Rockwell Collins recently hit all-time highs. They soared around 50% over the past year. As the U.S. government continues its long-term spending spree, expect more gains for this "offense" contractor...