The Weekend Edition is pulled from the daily Stansberry Digest.
---

One "left for dead" asset class is quietly moving higher again...
Since bottoming in late June, the Bloomberg Commodity Index – which tracks nearly two dozen commodities across energy, grains, precious metals, industrial metals, and more – is up 11%.
And the index – considered the benchmark for the global commodities market – has picked up steam lately. About half of those gains occurred over just the past four weeks alone.
This rally shouldn't come as much of a surprise. After all, the relationship between stocks and commodities reached a historic extreme last year. Take a look...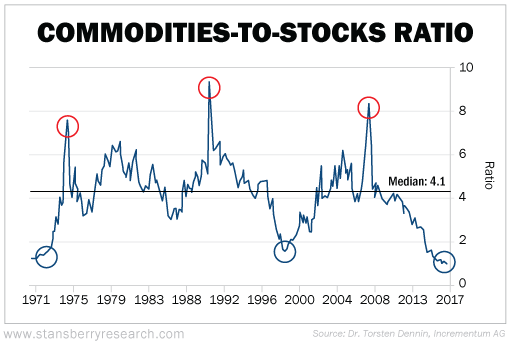 Commodities have only been this cheap relative to stocks two other times in the past 50 years. And in both cases, commodities dramatically outperformed stocks over the next several years.
The first time was just before President Richard Nixon took the U.S. dollar off the gold standard in the early 1970s. As you may recall, inflation skyrocketed, and commodity prices surged to absurd new highs over the next several years.
The second time was just before the last "Melt Up" in stocks during the dot-com boom. What many folks don't realize is that many commodities actually bottomed more than a year before the stock market peaked. And again, they trounced the stock market for years.

Remember, commodities are notoriously cyclical...
They go through massive booms and busts. As we often say... if you catch one of these big cycles at the wrong time, you'll lose a fortune. Catch one early, though, and you may never have to work again.
The recent broad-based rally in commodity prices suggests that we may be in the early stages of another multiyear boom. Our colleague Steve Sjuggerud agrees...
In fact, he has been calling for this for nearly two years. Back in March 2016, Steve told his True Wealth subscribers to buy the "Masters of the Universe" in commodities.
In that issue, Steve noted that a classic "bad to less bad" opportunity could be taking shape. At the time, the entire global mining sector was starting to move higher.
Major miners Rio Tinto (RIO) and BHP Billiton (BHP) were leading the way. As Steve put it (emphasis added)...
When the stock prices of the global mining giants get going, triple-digit gains aren't just possible... they're normal.

This could be the beginning of the next "up cycle" in global mining stocks – which have been good for hundreds-of-percent gains in the past...

This is a fantastic "bad to less bad" opportunity. We don't need to see good news from the Masters of the Universe. They've been in terrible shape for years. And everyone knows it.

All we need to see is a slight shift in sentiment... for things to go from bad to less bad. And I think we have that, based on the recent price action.
His favorite "one click" way to benefit from the trend was the iShares MSCI Global Metals & Mining Producers Fund (PICK). Rio Tinto and BHP Billiton are among its top holdings, along with other Masters of the Universe like Freeport-McMoRan (FCX), whose massive Grasberg mine is one of the world's largest copper mines.

You can likely guess what has happened since then...
Just as Steve predicted, PICK has continued its uptrend. As you can see from the following chart, these companies have quietly moved higher as things have gone from bad to less bad in the sector...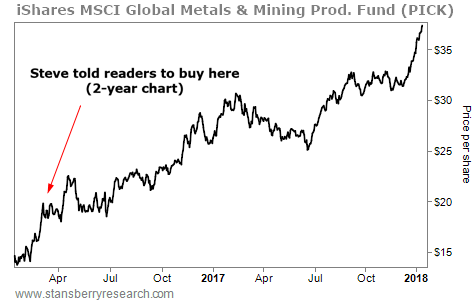 True Wealth subscribers who followed Steve's advice are sitting on 97% gains so far.
But like us, he believes a commodities boom could just be getting started... As a result, mining stocks appear to have plenty of room to run from here.

Of course, that doesn't mean Steve is turning bearish on stocks just yet…
In fact, he believes the "Melt Up" could run for another year or even two before the market finally peaks. That's why Steve recently put together a presentation to help you maximize your gains during this once-in-a-lifetime event.
And for a limited time, you can get Steve's "Melt Up Blueprint" – and all of his research in True Wealth – at a 75% discount. Watch Steve's free presentation right here.
Regards,
Justin Brill
Editor's note: Stocks are marching to new all-time highs as the bull market enters its ninth year. We may never see another bull market like this again. That's why Steve has put together a "blueprint" to profiting from the Melt Up. In it, he shares the ideas and investments he believes will lead to the biggest gains as the market explodes higher. Learn more here.