The biggest gains in a stock-market "Melt Up" typically happen in tech stocks...
One important indicator we track tells us that they could absolutely soar from here – leading the entire market higher with them.
Let me explain...
Tech-stock investors got spooked during the market correction earlier this year.
Real-money bets on tech stocks fell off a cliff... Specifically, futures traders became extremely bearish on tech stocks for the first time in nearly two years.
That's great news for us... You want to buy tech stocks when investors are scared of them. And based on history, today's setup could mean gains of as much as 30% in tech stocks over the next year.
The Nasdaq 100 Index is historically THE major tech-stock index. It holds 100 of the largest companies listed on the Nasdaq stock exchange. The Nasdaq's top seven holdings are the largest tech stocks – like Apple (AAPL), Microsoft (MSFT), and Amazon (AMZN) – which make up nearly 50% of the index.
The important news is, traders gave up on the Nasdaq 100 Index after the recent correction.
That's based on the Commitment of Traders (COT) report. The COT report is a "real money" indicator. It tells us what futures traders are doing with actual dollars.
As longtime readers know, it's a fantastic contrarian tool. You see, when futures traders are all making their bets in one direction, the opposite tends to occur. As contrarians, we want to bet against the crowd.
Right now, the crowd is the most bearish on tech stocks than it has been in two years. Take a look...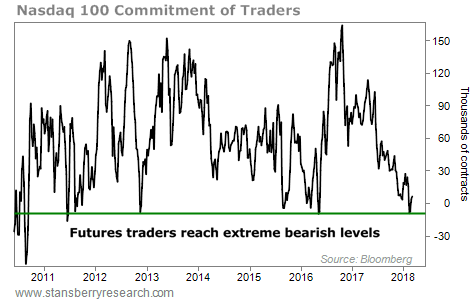 When the line on the chart is rising, futures traders are bullish on the tech-heavy Nasdaq 100. The opposite is also true: When it's falling, futures traders are bearish.
As you can see, the COT report shows we recently hit a multiyear low.
Interestingly, the last four times traders were this bearish were great times to buy technology stocks. Take a look at what the Nasdaq 100 did after these extreme levels...
It's been a bull market for the past nine years... But these are fantastic results even considering that.
The Nasdaq 100 has jumped an average of 23% in a year after similar hated extremes. History is clear: We really want to own tech stocks now.
As the Melt Up continues, I believe a similar result isn't just possible... it's likely.
If you're thinking about adding tech stocks to your portfolio, this signal suggests that now is the right time to pull the trigger.
Good investing,
Further Reading:
"If you thought you missed the great run-up in stock prices over the past two years, think again," Steve writes. Last week, he shared the "fantastic news" about February's correction.
Read more here
.
Longtime
DailyWealth
readers know we're fans of making contrarian bets. And tech stocks aren't the only extreme in the market today. Last month, Steve offered an idea that's as "against the crowd" as they come. Read more here:
Are You Contrarian Enough for This Trade?
We are on the verge of a Global Melt Up. And triple-digit gains are possible in emerging markets as stocks head higher...
Market Notes
A LEADING SECTOR IN THE TECH BOOM
Today's chart highlights a top performer in the Melt Up...
Regular readers know we're always looking for big, secular trends to invest in. Since the invention of the personal computer and the cellphone, demand for semiconductors – the little "chips" that power most of the electronics we use today – is at all-time highs. And with the rapid growth of smartphone users around the world, it's clear that "semis" are fueling a dominant, thriving tech trend...
You can see this concept at work with the VanEck Vectors Semiconductor Fund (SMH). The fund holds a basket of semiconductor stocks like Intel (INTC), Advanced Micro Devices (AMD), and Nvidia (NVDA).
SMH shares have soared in recent years. As you can see in the chart below, after dividends they're up more than 240% over the past five years alone... And they just hit new all-time highs. With SMH shares trading at new highs, it's a good sign that Steve's Melt Up thesis is still intact...