Steve's note: I don't write much about cryptocurrencies like bitcoin... But if you're interested in these assets, my colleague Tama Churchouse is the guy I trust to give you the full story. In today's essay, he says the "crypto boom" is alive and well – and if you make the right moves, the recent correction could be a great buying opportunity...
---
Forest fires, while potentially lethal and devastating to people and property in their path, are a crucial part of the natural cycle of forest ecosystems.
Fires remove dead vegetation and alien plants that compete with native species, stimulate new growth, trigger certain plants to release seeds, and actually improve wildlife habitats in the long run. They also remove diseased, decaying trees, making new for new younger ones.
In the world of crypto assets, a fire is raging right now. The crypto market has shed more than $400 billion of market value since last month (that's nearly 50%). Every crypto has pulled back.
The spark was a long-overdue regulatory hammer blow, reverberating from both South Korea and China...
China is now intensifying its crackdown on crypto trading, specifically on exchange-like service providers. Chinese exchanges themselves have long been closed, since the previous regulatory onslaught last August and September.
South Korea, on the other hand, is focused on more regulation and oversight – an end to anonymous crypto exchange accounts for example, and proper taxation – rather than shutting the market down.
I've been warning my Crypto Capital subscribers about an impending correction for a while now.
In December, I wrote...
There's a degree of frenzy, and of blind speculative mania, that has taken hold. I've seen projects that I know with certainty have no long-term future whatsoever see their market values double, triple, or more, moving into the billion-dollar plus category.

These are projects that I'm certain will fail...

The big shakeout is going to come. Don't be even vaguely mistaken about that.
No doubt plenty of folks out there are panicking. Maybe you own a little bitcoin yourself, and are feeling nervous... and you've lost some money.
Of course, that's not good. But through the smoke and flames, it's worth remembering that these fires do serve a greater purpose...
Firstly, they force people to start truly assessing what it is they own... or think they own. In a raging bull market when everything's going up, it's easy to throw some darts at the crypto wall with no research at all, bag some returns, and think you're a genius. As the cliché goes, a rising tide lifts all boats.
But let's say a cryptocurrency you own is down 30%, 50%, even 70%, and it happens in an instant. Chances are good that if you don't have that foundation of conviction, research, and understanding to fall back on, then you'll sell, bag a loss, go home, and lick your wounds.
Corrections force discipline on an otherwise broadly unsophisticated market. And that's only a good thing in the long run.
The second benefit is that these fires clear out the dead wood... that is, the garbage of the crypto world. And there's no greater decaying oak than a crypto called Bitconnect.
Back in November, one of my Crypto Capital subscribers wrote to me asking about it. He noticed it had been doing extremely well and upon further digging came across an article online claiming that Bitconnect was some kind of "sustainable 2.0 Ponzi scheme."
I wrote at the time...
I think Bitconnect's days are probably going to be numbered...

I have warned people about it. People say, "Well, the price keeps going up." Well, that's kind of what happens in a Ponzi scheme until it doesn't and the rug comes out from under your feet.

It's interesting to see the regulators coming down and actually sending cease and desist to a specific crypto. We warned about this crypto in the past, so I hope you don't own any.
As of early January, Bitconnect traded for more than $430. A little more than a month later, it was trading for about $3 – a collapse of more than 99%.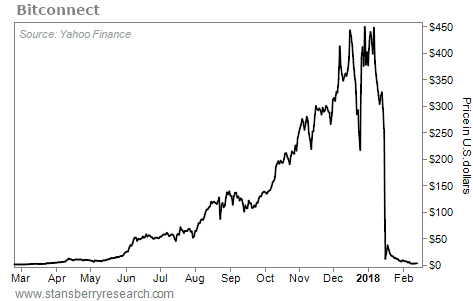 The sad part of this is that thousands of individuals, if not tens of thousands, have been wiped out. There was certainly no smart money in Bitconnect tokens. This was the preserve of the unsophisticated – who I suspect could least afford its demise.
Two billion dollars of "wealth" vanished into thin air.
Its very existence, however, was a black mark on the whole crypto sector in general.
The company behind it received multiple cease and desist orders. No one knows who is actually behind the platform. Its GitHub repository, where all open source blockchain code resides, is noticeable only for its inactivity. And if you're looking for a white paper to learn at least something about the inner workings of this coin, good luck finding one.
Oh, and according to its website, Bitconnect is "an interest-bearing asset with 120% return."
When all's said and done, these corrections will help this still-nascent asset class.
There's still a lot of dead wood to clear out. It's a painful process. But the market will be the better for it.
Good investing,
Tama Churchouse
Editor's note: Is this the end for cryptocurrencies? Or is it the perfect opportunity to get on board? Tomorrow at 8 p.m. Eastern time, Tama is hosting a live emergency briefing to answer all your questions. In it, he'll discuss the latest developments in cryptocurrencies... reveal a shocking prediction... and show you how to make a lot of money as the market recovers. Reserve your seat here.
Further Reading:
"If you're going to invest in cryptos, make sure you're investing in the right ones," Tama writes. To learn how to make smart buys and avoid the "dead wood," check out his recent essay right here: Six Things to Keep in Mind Before You Buy Your Next Crypto.
"Over the long term, bitcoin's upside is far from over," Tama says. In this essay, he explains some of the basics of these new assets – and how the right mindset is crucial to profiting from them. Read more here: You Haven't Missed the Boat With Bitcoin... Yet.
Along with most markets this past month, the crypto space took a beating. Tama explains more about why these recent pullbacks aren't all bad for the crypto market going forward...
Market Notes
THE 'PICKS AND SHOVELS' OF BIG DATA
Today's chart highlights a company that meets growing data demands...
Longtime readers know one of our favorite ways to invest is through "picks and shovels." These companies provide the tools, products, and services that fuel long-term trends and booming sectors. We can see this concept succeeding today with cloud-network provider Arista Networks (ANET)...
The average U.S. smartphone user now consumes 31.4 GB of data each month – but most folks don't think about the massive computer networks that store and analyze all their data. That's where Arista comes in... Its technologies help these data centers run faster and more efficiently. Tech leaders Microsoft (MSFT), Facebook (FB), and VMware (VMW) are some of its biggest customers. And over the past two years, Arista's sales and profits have soared 80% and 137%, respectively.
As you can see below, Arista shares have staged an incredible rally. They're up more than 410% over the two years... and recently hit a new all-time high. As our data usage increases, keep an eye on this supporting tech player...